umch room reveal + see it for yourself!
I can't thank all of you enough for your generous monetary donations and moral support throughout this project! I spent every day I had off from Pottery Barn last month working on this project, and I am thrilled with the way it came out.

I wanted the room to be cozy, youthful and still masculine. Thanks to the awesome donation of the bed from Room & Board, and the cool lamps from Mitchell Gold + Bob Williams I already had a lots of color to start with! I donated my own orange wingback chair when I found that awesome Pottery Barn pillow on super clearance. I often start a room design based off of one piece, and in this case, this colorful chevron pillow was it! The color scheme and the texture reminded me Southwestern style. Since I didn't have an actual client to design for, I created a "character" in my head. I imagined a young man who loves all things country, is an adventurer, but is temporarily in the city.

Using that theme, I warmed up the clean sleek lines of the donated furniture & lighting by painting the room a soothing mocha color with chocolate trim. Adding in the vintage chair, wood elements, and original art painted on reclaimed window panes made it feel like he moved in with things that have been loved for a long time.
Below you can "shop the room"! I tried to highlight where I purchased the things you see, but if there is something you see that I didn't mention, please ask! I found some STEALS while shopping for this room, and I don't mind sharing sources.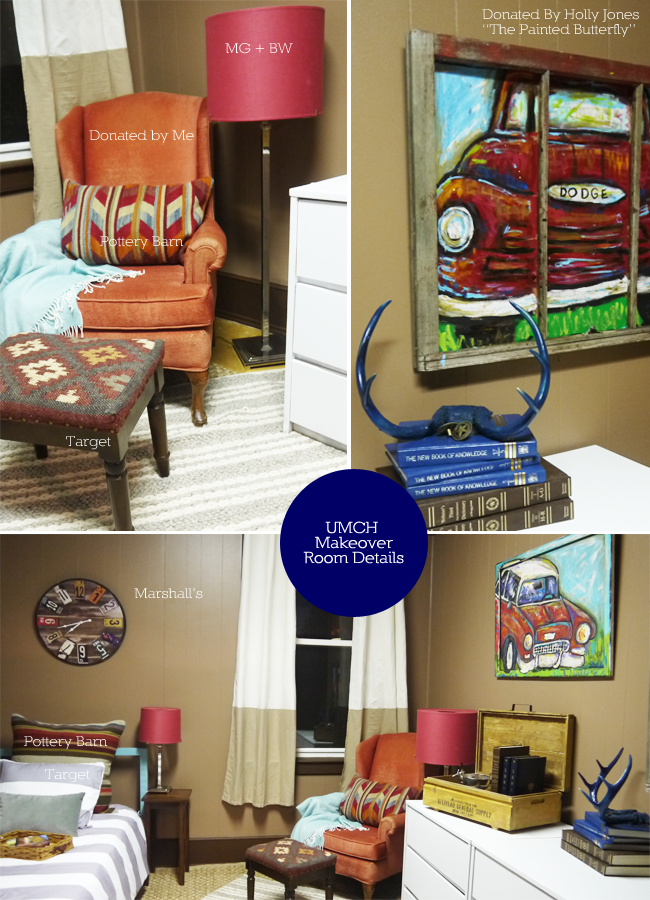 Want to see it in person?? You can come by today from 3-7pm and see ALL of the amazing transformations.
Again, THANK YOU, THANK YOU to everyone who contributed; even if it was just pat on the back. :)
SPECIAL THANKS to Dorothy Burke, Will V., and Caroline Buttimer for your hands on help!
And to all of these generous financial supporters:
Ishea of Six Twenty Seven
Linwood McNeill
Shae of Afroniquely You
Rhonda Bellinger
Julian Gravansande
Maxine of In a Fab World
Christopher & Marnita Edwards
Gloria Mittman
LaVonde Driver
Pamela Holt
Deidre Cooper
Oreno Hooker
Willette Morman
I could not have done this without you all!

Niki McNeill
Creative spirit living & loving in Raleigh, NC.